U2 Rai$e$ $3mil in 2 days.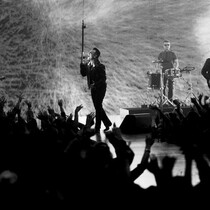 Posted February 4th, 2014 @ 10:12am
Bono and the boys have done it again, this time for a big cause. U2 released their new song "Invisible" in a grand way.
The song went global during the less-than-enthralling Super Bowl, part of a commercial for The Global Fund. In the first hour alone their were over a million free downloads on iTunes. Since that incredible launch, over $3 million has been raised for the Global Fund in the fight against AIDS, Tuberculosis and Malaria. You can now download it for $1.29 on iTunes, and Bank of America is matching all money raised up to $10 mil. Bono puts the money where his mouth is.