Sorry ladies...George Clooney is done.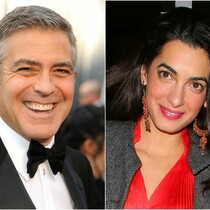 Posted April 28th, 2014 @ 10:07am
Don't shoot the messenger. I'm sorry to start the week with bad news for the ladies...but People Magazine and US Weekly are reporting that Hollywood heartthrob George Clooney is engaged!
Clooney, a notorious 52-year-old playboy is reportedly getting ready to marry a human rights attorney from Britain. 36-year-old Amal Alamudding is fluent in 3 languages, which will help her understand the various curse words hurled towards her from scorned angry women.
George was married once from 1989 - 1993, and after that failed attempt swore off marriage, choosing to date many celebs and beauties over the years. Apparently the couple's common interest in human rights has made Clooney re-consider his stance against marriage.
No date has been reported set for the wedding event. So at least there's still hope ladies.....
(photo/Getty Images)