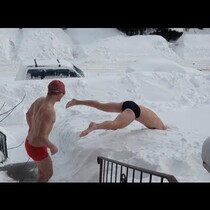 Posted March 13th, 2014 @ 11:33am
Now that the blizzard has moved on, what do we do with all this snow? Let's take a dive!
These guys remind me of every dude who has a house party during the Park Ave. Fest. You've got to admire their courage as they perform their own polar plunge. watch BELOW!
)