Mr. & Mrs. Pitt II...he does it again!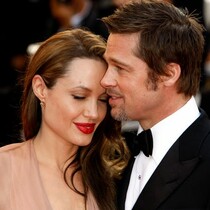 Posted August 28th, 2014 @ 10:08am
USA Today breathlessly reported this morning that "They did it!" Yes, America's long wait is over....Angelina is now Mrs. Brad Pitt.
Wait a second. Didn't somebody already have that title? Oh yeah...remember poor Jennifer Aniston?
Yes Jennifer was married to Brad for seven years but things unraveled when he started filming "Mr. and Mrs. Smith", where the role of the Mrs. was played by Angelina Jolie, ironically now his new real wife. Boy Hollywood can write a script.
We all know what happened from there. Jennifer, America's sweetheart who many consider one of their own "Friends", was cheated on and dumped. And many still hold it against the new Mrs. Pitt II.
More irony: Jennifer just appeared Tuesday night on "Jimmy Kimmel Live" on ABC, most likely unaware of the media firestorm that Saturday's wedding is now spawning.
More wedding details, according to USA Today: all 6 of the Pitt children (Maddox, age 13, Pax 10, Zahara 9, Shiloh 8, Vivienne 6 and Knox 6) were part of the ceremony.
And the wedding was performed in France, where the Pitts own a little shack named Chateau Miraval. Apparently America was booked Saturday so they had to get married there.
Sorry about the sarcasm, but I'm not a fan of cheaters.
But life does go on. Jennifer Aniston is engaged to another actor Justin Theroux, Brad is re-married, has a family and we hope for the best for all involved.
If there is a co-worker who is broken up by this major announcement, our condolences to her. Tell her I'm sure she will enjoy the official wedding photos after they're sold to People magazine. Ain't love grand?
(photo/Jean Baptiste Lacroix/FilmMagic/USA Today)