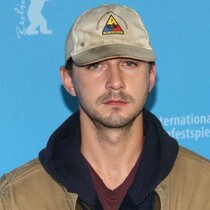 Posted June 27th, 2014 @ 10:07am
Shia LaBeouf is an interesting cat. Seems to be quite an actor. Not sure if he was acting Thursday night in NYC, but he is now set to receive an award. From a judge.
LeBeouf, who has starred in a prior movie production of "Transformers" (which ironically opens this weekend with a new sequel starring Mark Wahlberg) was arrested inside a theater in New York while attending the production of "Cabaret" Thursday.
Shia was allegedly smoking a cig, which we all know by now is a no-no in a public building. But that's just the start of his trouble. He allegedly was slapping people on their rear ends without being invited. This was no acting assignment on stage. This was in the aisle and lobby. He was charged with criminal trespass and misconduct.
After the NYPD arrested LeBeouf for this strange behavior--after all, go ahead and try to pat some strange butts this wknd. and see how that works out-- he also may have tried to bite a cop. I thought that act was only for World Cup soccer players this week. I guess LeBeouf may have had a bad case of World Cup fever!
LeBeouf was placed in a face mask at the police precinct. That's quite a look...try it this wknd. during the finale of the Jazz Fest downtown and see how people react while you're swatting their butt!
A judge will now determine the actor's fate, which I'm sure will include a verbal lashing, a fine, community service and maybe an apology and explanation. Maybe Shia should consult with Alec Baldwin who seems to know a thing about bizarre behavior in NYC. Hope you have a better wknd. than Mr. LeBeouf.
(photo/Anita Bugge/WireImage)