Magic Mike coming back to BIG screen.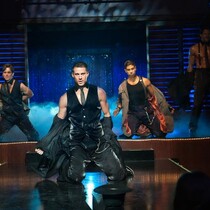 Posted April 16th, 2014 @ 10:04am
Channing Tatum and his strippers want to make a date with you. Warner Bros. says a sequel to the hit flick is planned.
The new installment "Magic Mike XXL" will spice up the Fourth of July holiday in 2015. Not being an expert in stripper action, I have no idea where this version of the movie goes. Or even where the last one left off. I'll leave that to you.
Tatum has signed up but no word yet if Matthew McConaughey will return to supervise the moves. The film is set to hit the big (no pun intended) screen on July 3, 2015.
(photo/Warner Bros.)