Leo toasts to MTV Movie Awards noms.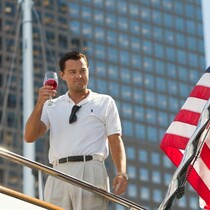 Posted March 6th, 2014 @ 10:13am
MTV announced the nominations for it's annual MTV Movie Awards today. Leading the pack are Hollywood darlings Wolf of Wall Street and American Hustle.
Wolf and Hustle grabbed 8 noms each. They are both up for Movie of the Year, joining 12 Years A Slave, The Hobbit: The Desolation of Smaug and The Hunger Games: Catching Fire.
Your favorite category may be Best Shirtless Performance. Up to win this less-than-prestigious award is:
Jennifer Aniston in We're the Millers
Sam Claflin in Hunger Games: Catching Fire
Leo Dicaprio in Wolf
Chris Hemsworth in Thor: The Dark World
Conan O'Brien will host on MTV April 13th at 9pm.
(photo: Mary Cybulski/AP)