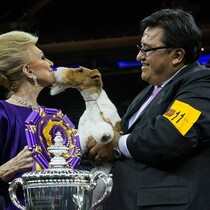 Posted February 12th, 2014 @ 10:17am
What a moment for this pooch, or is it better for the judge?
That's the big winner of the 138th Westminister Dog Show Sky kissin' up to judge Betty Leininger Tues. night in NYC. Sky, a a wire fox terrier and handler Gabriel Rangel appear to be quite pleased with the canine's big moment. The judge seems awkwardly royal and righteous while holding the champ's award.
If you want to see a hilarious behind-the-scenes spoof of the canine extravaganza, check out "Best in Show" tonight on the CW network at 8p. This classic parody from 2000 shows just how insane the owners of the dogs get during the big competition. The dogs seem to be the smartest of all those who are part of the annual four-legged furfest.
(photo Andrew Burton/Getty)