Johnny Weir stole my coat!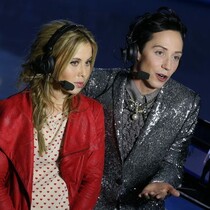 Posted February 17th, 2014 @ 10:16am
Have
a case of Olympic Fever? As we start week two of competition in Socha, it was hard not to notice this weekend that former Olympian Johnny Weir (now a commentator for NBC and NBCSN) likes to dazzle with his wardrobe.
Weir, a figure skating champion before moving to the microphone has been a breakout star during NBC's coverage of his favorite sport. Above he's pictured with another former champ Tara Lipinski as they breathlessly await the next spin or "twizzle" (not the candy, it's a synchronized twirl between skaters). I am first to admit that I know nothing..zip...nada about figure skating and just shocked myself by even knowing that term "twizzle".
That shows how good Weir and Lipinski are at what they are doing. They can even educate a moron like me about figure skating. But what viewers love most about the pair is their chemistry and choice of clothing. Sunday night Weir broke out an emerald green jacket while sporting a jeweled headband. Damn. That's what I was gonna wear to lunch today to celebrate President's Day! Thanks Johnny for throwing a twizzle into my wardrobe today bud.
(photo/John Berry/Getty)