Jack Bauer returns. Will he smile?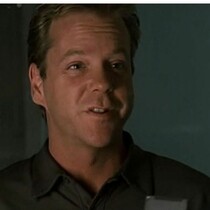 Posted May 5th, 2014 @ 1:55pm
Did you ever get hooked on "24"? The FOX drama was a big hit a few years back as viewers followed our hero Jack Bauer as he took on terrorists, all seemingly in a 24 hour time frame. It was amazing how Jack could get around Los Angeles traffic in such short bursts, or get around the world all within a day, but that's besides the point.
Tonight FOX is bringing Bauer (played by Kiefer Sutherland) back for a 12 episode run launching with a 2 hour setup at 8pm. Yes, "24" has been shrunk in half. But if you were a fan of Jack, Chloe and their evil enemy thugs, it could be something special.
One question for those of us who watched the show before: will Jack Bauer ever have a good day (or even an hour) and crack a smile?
(photo/FOX)