Heat does strange things to us all.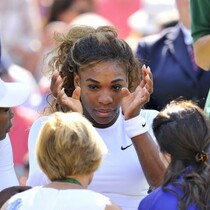 Posted July 2nd, 2014 @ 10:31am
We're in for another hot day as we approach the 4th of July holiday. Make sure to stay hydrated as we don't want you to end up like tennis superstar Serena Williams Tuesday.
Williams, seeded #1 at Wimbledon in singles, lost in the individual tennis early in the tourney. Tuesday she was paired with her sister Venus in the doubles competition but became disoriented and dizzy.
After being checked by officials and doctors, the Williams sisters withdrew from the match. Serena was diagnosed with a viral illness and will head home to the US.
If you're looking for places to cool down and not pull a Serena, here's some possible spots today:
Genesee Valley Park pool on Elmwood Ave, which has just completed an $800,000 renovation. The pool is open noon- 9p
Durand Eastman Beach and Ontario Beach, with extended swimming hours til 8p.
Roseland Water Park in Canandaigua, which just opened for the season Friday.
Seabreeze in Irondequoit.
Temps are expected to cool down tomorrow leading into a perfect 4th. For updated forecasts, punch in keyword: weather. Happy hydration!
(photo/Glyn Kirk/Getty Images)