Grumpy Cat on the red carpet.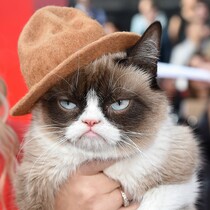 Posted April 14th, 2014 @ 12:25pm
Here's the furry feline who stole the show on the red carpet at the MTV Movie Awards this weekend.
Grumpy Cat, Conan O'Brien's pal, seems to really be enjoying the moment. At least he doesn't seem to have the pompous, arrogant attitude that so many Hollywood stars possess (or does he?). His look-alike Pharrell fedora strikes the right look.
Big winners at the show included:
"Hunger Games: Catching Fire" Named as Best Movie, and its stars Jennifer Lawrence and Josh Hutcherson walked off with Best actor awards from the flick.
Jonan Hill. The funnyman won for Best Comedic Performance.
Zac Efron's pecs. He worked hard to secure the Best Shirtless Performance award for his role in "That Awkward Moment".
But really, there is nothing like an angry cat on the carpet, is there?
(photo/Getty Images)