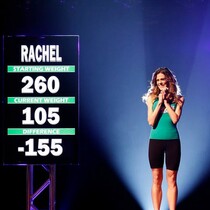 Posted February 5th, 2014 @ 10:19am
I
have a strong feeling that Rachel Fredrickson did not partake in chicken wings, nachos or any fun on Super Sunday.
Fredrickson won the title of "The Biggest Loser" for season 15 which ended Tuesday night on NBC. The 24-year-old dropped 155 pounds, slimming down from 260 to 105! Congrats to her on an amazing feat. For her hard work and determination, she takes home a check for $250,000. That would buy alot of wings and pizza.
Can you imagine losing 155 lbs.? Think about that while dining during the storm today.
(picture/NBC)