Billboard Music Awards noms here....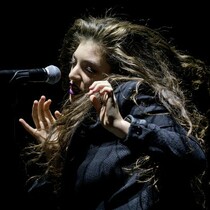 Posted April 9th, 2014 @ 10:18am
Lorde is ready to walk off with lots of trophies at the Billboard Music Awards.
Nominations were announced this morning and the 17-year-old Lorde joins Robin Thicke, Pharrell Williams and T.I. with 5 noms each. Imagine Dragons and Katy Perry are close behind, up for 4 awards apiece.
The show will air on ABC May 18th.
Top artist:
Miley Cyrus
Imagine Dragons
Bruno Mars
Katy Perry
Justin Timberlake
Top new artist:
Bastille
Capital Cities
Ariana Grande
Lorde
Passenger
Top male artist:
Luke Bryan
Drake
Eminem
Bruno Mars
Justin Timberlake
Top female artist:
Beyoncé
Miley Cyrus
Lorde
Katy Perry
Rihanna
Top duo/group:
Florida Georgia Line
Imagine Dragons
Macklemore & Ryan Lewis
One Direction
OneRepublic
Top Billboard 200 artist:
Beyoncé
Luke Bryan
Eminem
One Direction
Justin Timberlake
Top hot 100 artist:
Miley Cyrus
Imagine Dragons
Lorde
Katy Perry
Justin Timberlake
Top digital songs artist:
Miley Cyrus
Imagine Dragons
Lorde
Macklemore & Ryan Lewis
Katy Perry
Top radio songs artist:
Imagine Dragons
Lorde
Bruno Mars
Katy Perry
Justin Timberlake
(photo/Neilson Barnard/Getty Images)