Before she became "The Biggest Loser"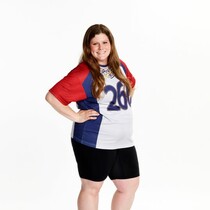 Posted February 6th, 2014 @ 10:21am
Here's what "The Biggest Loser" looked like at the beginning of her incredible journey to a new life.
Rachel Fredrickson, the 24-year-old winner on NBC's "The Biggest Loser" has been facing a barrage of criticism since she was named the winner this week.
Fredrickson, who dropped 60% of her body weight when she slimmed from 260 lbs. to 105 for the finale Tuesday, says she was following a calorie count prescribed by the show's trainers. She would "eat 5 small meals a day", all containing protein. Her daily intake was 1600 calories, which doesn't seem extreme.
Fredrickson also said she became a gym rat, dedicating hours per day working on her goal. Rather than jumping on her with negative comments on Twitter, she should be congratulated for her drive and focus. No matter what your body style or size, anyone who works at staying healthy should be celebrated, not denigrated.
(photo/NBC/AP)