Be careful who you crawl into bed with tonight!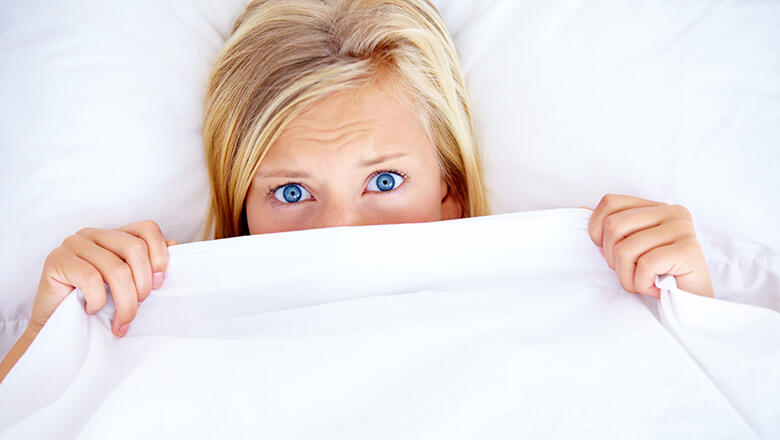 Tennessee mom Christine Humphries was asleep in her bed when she thought her cat had crawled into bed with her.
Except what was moving didn't feel like fur. It felt like "skin on skin."
Humphries explained to WTVF that storms passing through the Nashville area that morning had kept her awake. When she felt what she thought was her arm asleep — which she didn't think anything of — she got up and went to sleep on a couch downstairs.
Once the storms passed she went back upstairs to her bed. The realization that it wasn't her cat in bed with her occurred just as she was falling back to sleep:
"I finally started dozing off because I was so tired. I woke up and thought that my cat had touched my arm but realized it wasn't cat fur a few minutes later."
That's when she propped her head up to get a closer look.
"I reached up and looked even farther, and when I raised my head up without moving my arm, whatever was in the bed raised up also and it was a small head."
She grabbed a flashlight to look. Staring back at her and sprawled across the bed was a 3-foot long eastern rat snake, or chicken snake.
Hope you can still get a good night of sleep on this first night of spring!

Born in Canandaigua NY, Pete Kennedy grew up the youngest of 5 Irish kids of Marian and T. Hamilton Kennedy. His dad "Ham" was elected as Mayor of the city of Canandaigua and served 14 years while his youngest son Pete stole the title "Mayor". Ham earned the title and Pete pilfered it.

Pete helped a bunch of his buds at St. Marys School to found an actual radio station that played music over the PA system during lunch. Many of the nuns were less than impressed by the musical selections this young mob played over WSMR. Later, "Mayor" also served as captain of his beloved Canandaigua Academy football team the Braves.

After successfully graduating from SUNY Geneseo where he spent many hours "studying" humanity while DJing and bartending at the world famous Inn Between, he somehow bribed a radio dude to hire him. Check him out daily on your Drive home.