WATCH: Spock vs. Spock in New Audi Commercial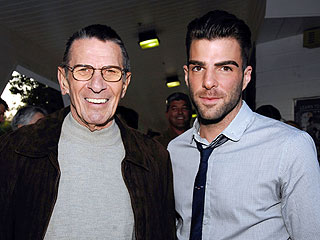 Spock is known throughout the Star Trek galaxy as a supremely wise being. His balance of emotion and intelligence are hallmarks of his legendary career with Starfleet. Of course, he's also a fictional character originally portrayed by actor Leonard Nimoy.
Now though, a younger Spock has emerged thanks to the new movie series, and he's played by actor Zachary Quinto. Audi has paired the two actors up in a new video titled "The Challenge."
It's a Spock versus Spock face-off that starts with a simple game of chess over an iPad. Quickly, however, it moves on to a mild race of sorts. The bet is last one to the country club has to buy lunch, and each Spock sets off in their preferred mode of transportation. Old Spock opts for a Mercedes-Benz CLS550 while New Spock prefers the Audi S7.
I won't spoil the entire spot for you, but it's certainly worth watching because it's quite entertaining. New Spock might have a sweet new ride, but don't count Old Spock out. The man has been around the galaxy a few times, and may have a trick or two up his sleeve.
[Yahoo]

I'm a shopaholic. I love The Walking Dead. I wish it was Fall 365 days a year. Oh, and I'm on the radio-you can hear me every day from 11a-3p on 100.5 the Drive!