WATCH: Music at the Super Bowl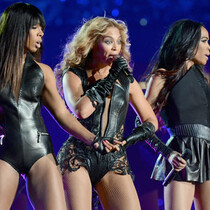 Posted February 4th, 2013 @ 12:36pm
Before the Baltimore Ravens and the San Francisco 49ers charged the field to begin Super Bowl XLVII, two of R&B's leading ladies, Alicia Keys and Jennifer Hudson, made America proud with a pair of emotional performances.
Hudson led things off with America the Beautiful and the rendition was made more powerful with the inclusion of members of the Sandy Hook Elementary chorus. The 26 kids of Newtown, Conn. sung sweetly alongside the powerhouse singer, who wore a tight black-and-white ensemble. The students survived a devastating school shooting on Dec. 14 in which 20 of their fellow students and six adults were killed.
Soon after, the cameras zoomed to Keys seated behind a gleaming silver piano in the middle of the field. Donning a tight fitting, dark red colored dress, she belted a soulful performance of "The Star Spangled Banner." The audience rose to their feet with approval, while the players - including a visibly shaken Ray Lewis - sung along with her.
And then of course, we have Beyonce, doing the halftime show. And...DESTINY's CHILD! My year has been made, and it's only February 4th.