WALKING DEAD: Series' Most Shocking Episode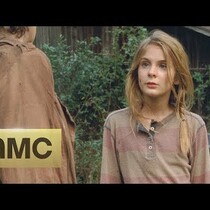 Posted March 17th, 2014 @ 7:57am
Okay, a LOT of the episodes in the past four seasons of The Walking Dead have been shocking. Lori, anyone? However, I'm going to go out on a limb and say that last night's episode was the most shocking. I've even read the comics, and I know about Ben & Billy. (The comic book version of the two girls in this scene.) But I still didn't fully see this coming...or at least, I didn't see it happening the way it did. Watch this extremely dark and disturbing, tragic scene:
Breaking down the episode - check out Melissa McBride's (Carol) interview with The Hollywood Reporter. Read it here.
What do you think? Did Carol do the right thing at the end? Or could they have made it work with Lizzie?